March 22, 2020 Ecocenter for Environmental Protection, Tbilisi
On March 21, 2020, at the initiative of the Directorate of Environmental Ecocenter, a webinar was held with the participation of NGOs from Georgia, Azerbaijan and Armenia, which was associated with the celebration of World Day of the UN insinuated.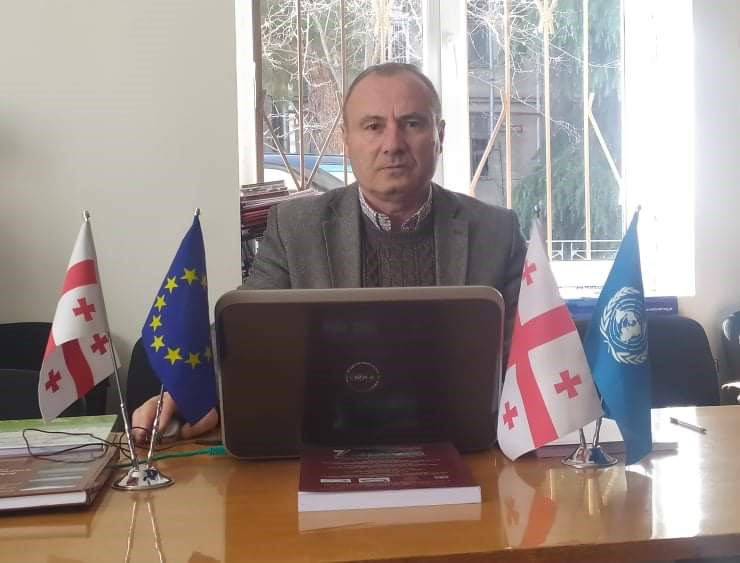 Professor Givi Gavardashvili is the initiator of the webinar
The webinar was attended by:
Givi Gavardashvili

Georgia

Ohanes Tokmanjian

Armenia

Telman Zeinalov

Azerbaijan
Georgia - Professor Givi Gavardashvili Director of Ecocenter for Environmental Protection. The Organisation in Category of Consultative Status with the Economic and Council (ECOSOC) of UN ;
Armenia - Professor Ohanes Tokmajian - LTD Chairman of the Armenian Hydraulic Association;
Azerbaijan - Prof. Telman Zeynalov - LTD Director of the National Environmental Prediction Center of Azerbaijan;
The webinar, which lasted over 3 hours, was discussed by colleagues in the world about the spread of coronavirus infection, and each spoke in the South Caucasus republics: Georgia, Armenia, Azerbaijan on the issue of blocking borders by the concerted action of the country's governments against the spread of the Corona virus and then focused on the importance of the UN World Water Day.
Professor Givi Gavardashvili briefed his colleagues on the importance of water resources in the Caucasus region and spoke about the problems of water resources formed in the transboundary river basin of the Mtkvari River and the importance of its solution for all three countries. He discussed the issues of water resources pollution in the Mtkvari-Araks Basin and put forward a proposal to set up a non-governmental scientific consortium in Tbilisi, that will work with UN-backed support in the Caucasus region to address climate change, including water resources problems.
Ohanes Tokmajian and Telman Zeynalov were actively involved in the conversation, who spoke about the current ecological processes in their countries and expressed their active readiness for cooperation.
Prof. Givi Gavardashvili's proposal was supported by Professors: Ohanes Tokmajian and Telman Zinalov, and agreed that after the cancellation of the state of emergency with the Corona virus outbreaks. A working meeting was held in Tbilisi to discuss these issues in detail.
Director of the Ecocenter Givi Gavardashvili also noted that I have spread a congratulatory message on the World Water Day, which has already been joined by scientists from 18 countries: Georgia, Armenia, Azerbaijan, Russia, Belarus, Lithuania, Latvia, the US, Romania, Poland, Poland , From Ukraine, Brazil, Estonia Or, from France, Germany, Turkey, Norway, etc.
The webinar was attended by representatives of the above-mentioned three republics, who spoke about water resources and ecology in the Caucasus region, as well as supporting tourism as a business in the region.